Security Solutions for Property Managers in Jacksonville
March 11, 2020
Property managers have several time-demanding things going on 24/7. Owners, tenants, and maintenance workers, oh my! To help property managers toward a path of stress-free property management, Bates Security offers solutions for busy people to manage things efficiently.
View our business security solutions or contact us today for immediate help!

Free Consultation
Easy Operations and Better Security
Bates Security offers you easy operation, better security and better insights into your property's operations with remote management. With our remote management tools, you can: securely reset codes, watch live or recorded video, and enable or disable permissions and credentials from anywhere! 
Isolated businesses or private areas such as loading or delivery docks should receive special attention, including increased lighting, and locking and surveillance--all to prevent unauthorized access to the building. Delivery and moving trucks to loading docks should be strictly controlled to prevent illicit entry into the building and removal of property. 
Bates Security integrates video surveillance, access control and intercom systems to allow easy operations for busy property managers

Simple Solutions
Provide prospective clients with information such as your security plan and preventative measures to make their business or living area safe. 
A sign on your building saying, "Protected by Bates Security" can alert potential tenants and deter criminals. 
Do not attempt to resolve dangerous situations without contacting experts like the fire department if a fire breaks out. Multi-tenant buildings require fire detection and notifications to ensure life safety. Our certified fire and safety specialists design BOMA and Florida code-compliant fire systems to protect your facilities 24/7.
How Access Can Help Your Business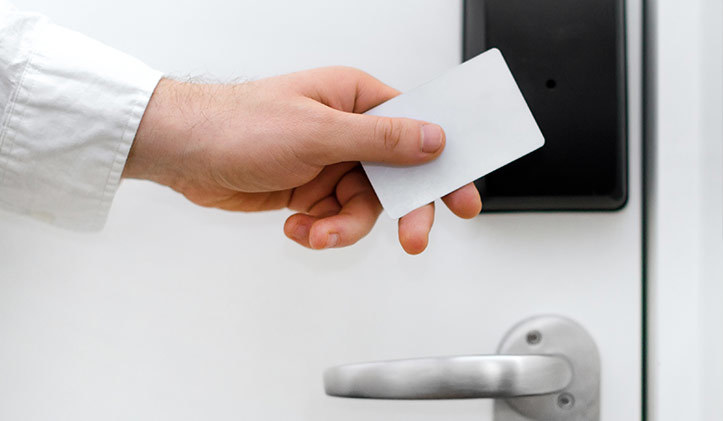 Building management should strive to provide tenants, employees and visitors a safe and secure environment for themselves and their belongings.
In multi-tenant office buildings, tenants are frequently asked to provide access control to their own spaces as many traditional methods such as elevator operators or receptionists have declined in use. Without those methods, unauthorized users may enter and roam the building alone, unmonitored while increasing the threat of robbery, theft and espionage.
Add an extra layer of protection and lose the hassle of re-keying by switching to electronic key fobs, cards or smartphone capabilities. Access control for property management can greatly increase productivity and efficiency while reducing costs. The day-to-day monitoring, management and maintenance of an access control system is just as important as the system itself; Bates Security covers everything for you!
---
FREE Consultation
Get security tips automatically